Sing Your Heart Out
Singing Lessons in Temple, TX
Singing is good for your health!   When you're singing Country, Metal, R&B, or Praise & Worship music as a soloist or part of a group, the act of music making does your body good.  Singing is a powerful way to give voice to what's in your heart.
We know that there are tons of singers out there looking for ways to improve.   That's why we have provided you with the following tools to help you make the right choice for singing lessons.
No matter your music style, no matter your singing ability- we invite you to lift your voice in harmony with us.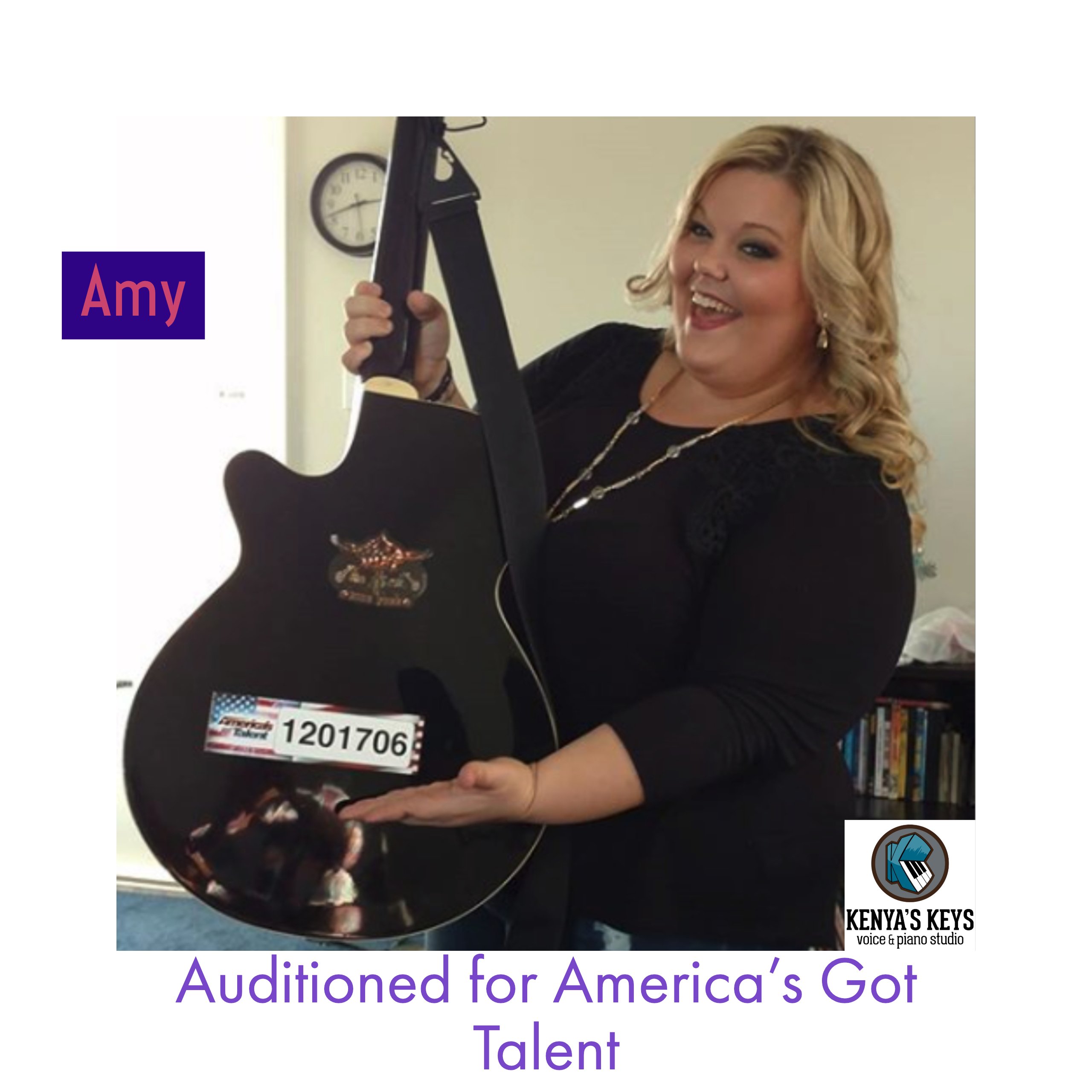 WHAT  YOU WILL LEARN
From the warm-up to the wind-down, ear-training and engaging exercises abound as we work together to transform you into a vibrant vocalist.  We will find the happy place for your singing voice and prepare you to move from stage fright to fierceness.  Through a sequenced study that focuses on unifying the mind, body, and spirit as one instrument you'll find out what that Do, Re, Mi stuff is all about.  You'll then apply that know how to your favorite songs for singing them in ways that will fascinate and captivate your audience. Get ready to see your talents dazzle and delight!
WHO IS THE IDEAL STUDENT?
The ideal student (or Treble Maker as we call ourselves) is anyone who can sit and listen, receive coaching and instruction, and is dedicated to the ongoing process of learning.  Again, we don't look at age or ability.  If you're passionate about music, we want to fan that flame so that it burns brightly throughout your lifetime.
HOW WE ARE DIFFERENT?
Singing lessons are given in a group format,  as a private lesson, and even online using FaceTime or Skype.  We could sit here and tell you how awesome we are. But hearing someone talk about themselves just isn't our thing.  Instead, we let our Treble Makers and their families tell you how we are different. You can read some of their reviews HERE  or watch a video of them HERE.
PRICES FOR SINGING LESSONS
See the chart below.
WHAT SHOULD YOU DO NEXT?
Fill out this form or call us now and we will get you started on your dream of singing the way you have always wanted.
Kenya is energetic, professional and focused on the success of each of her students.  Highly recommend her studio!
Kris S.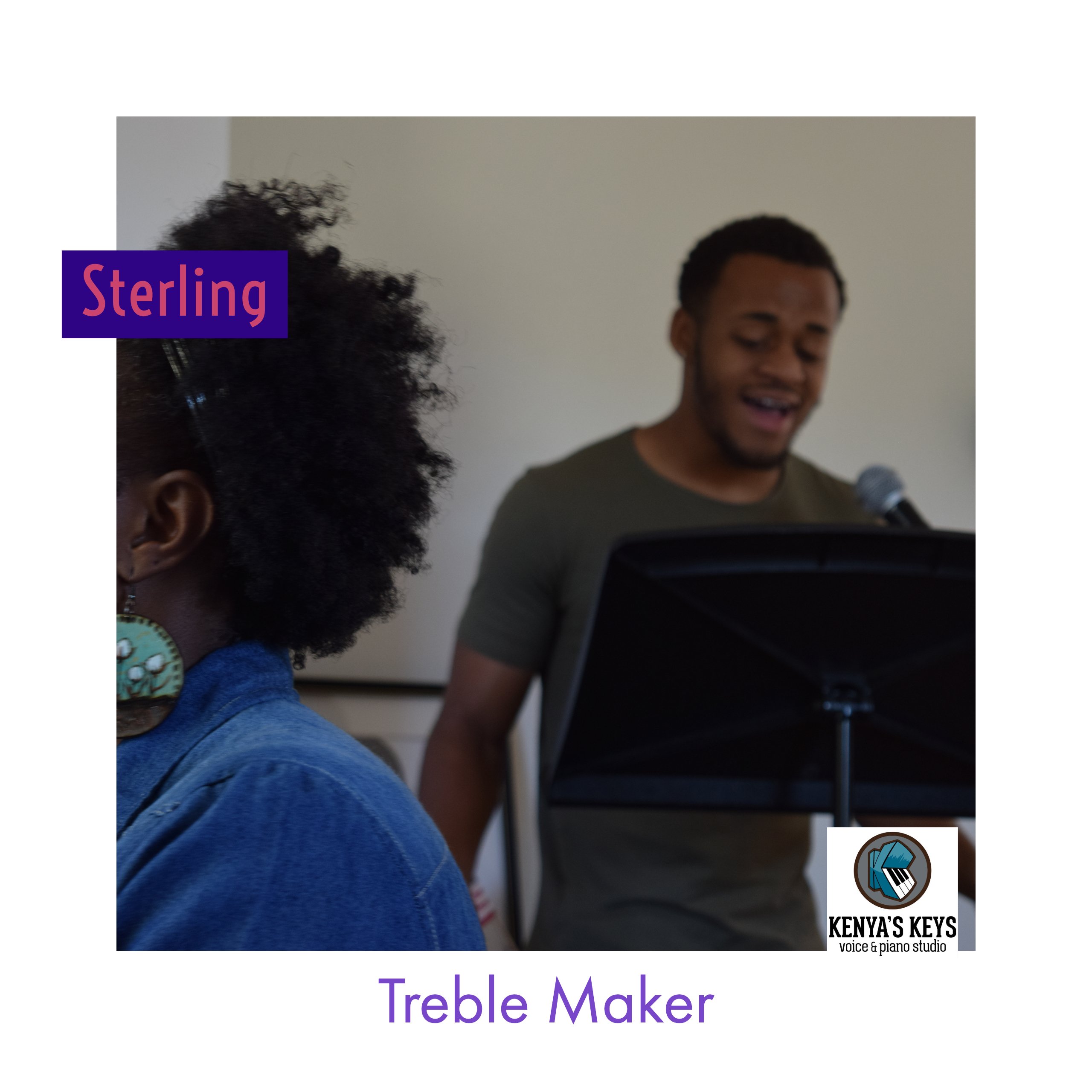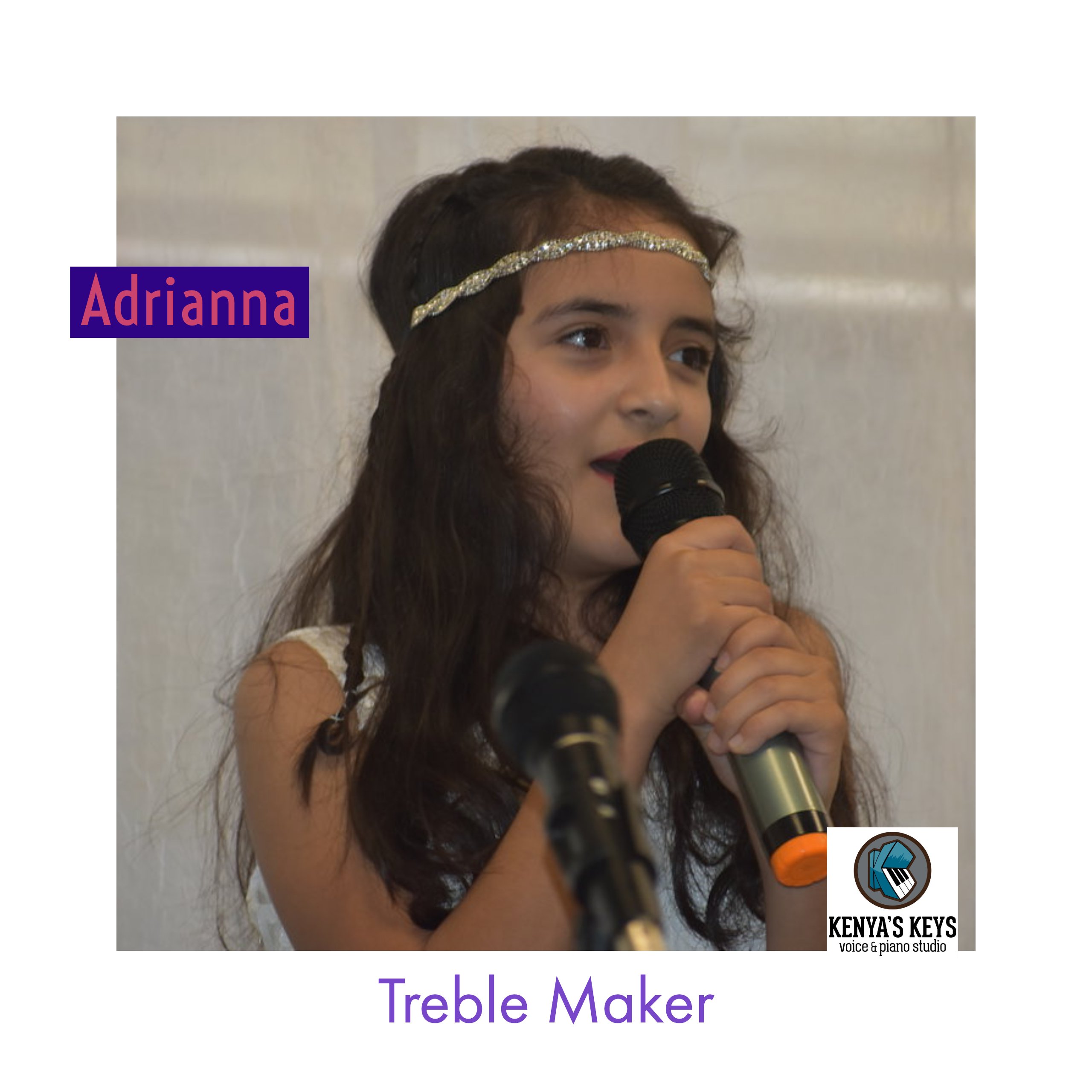 Aside from an annual Enrollment Fee of $30 ($50 for families), there are no other expenses beyond tuition.   There is never any charge to participate in any of our unique performance opportunities.  You can read our full policy HERE.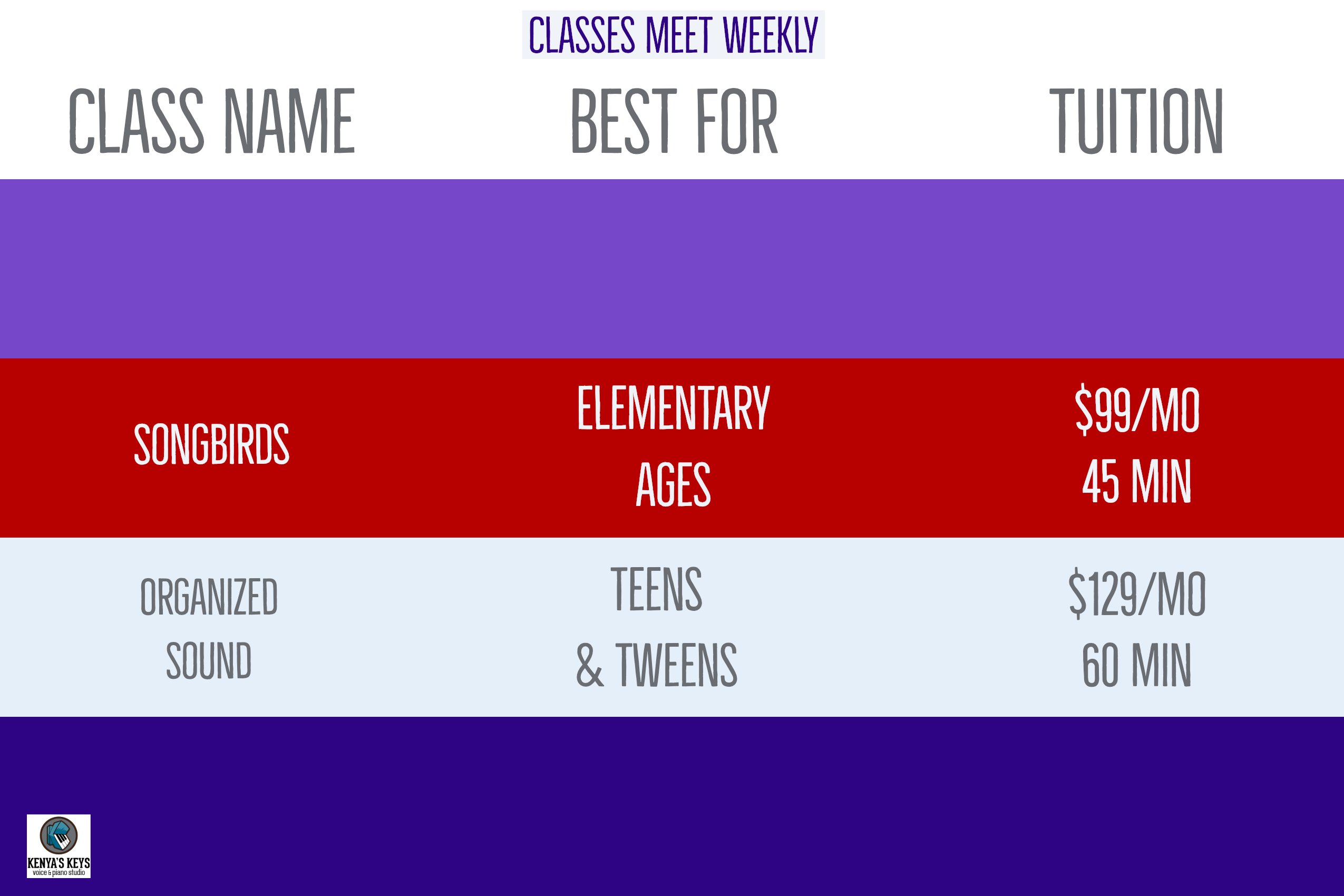 Group Lessons are best for learning the basics in a positive peer pressure environment.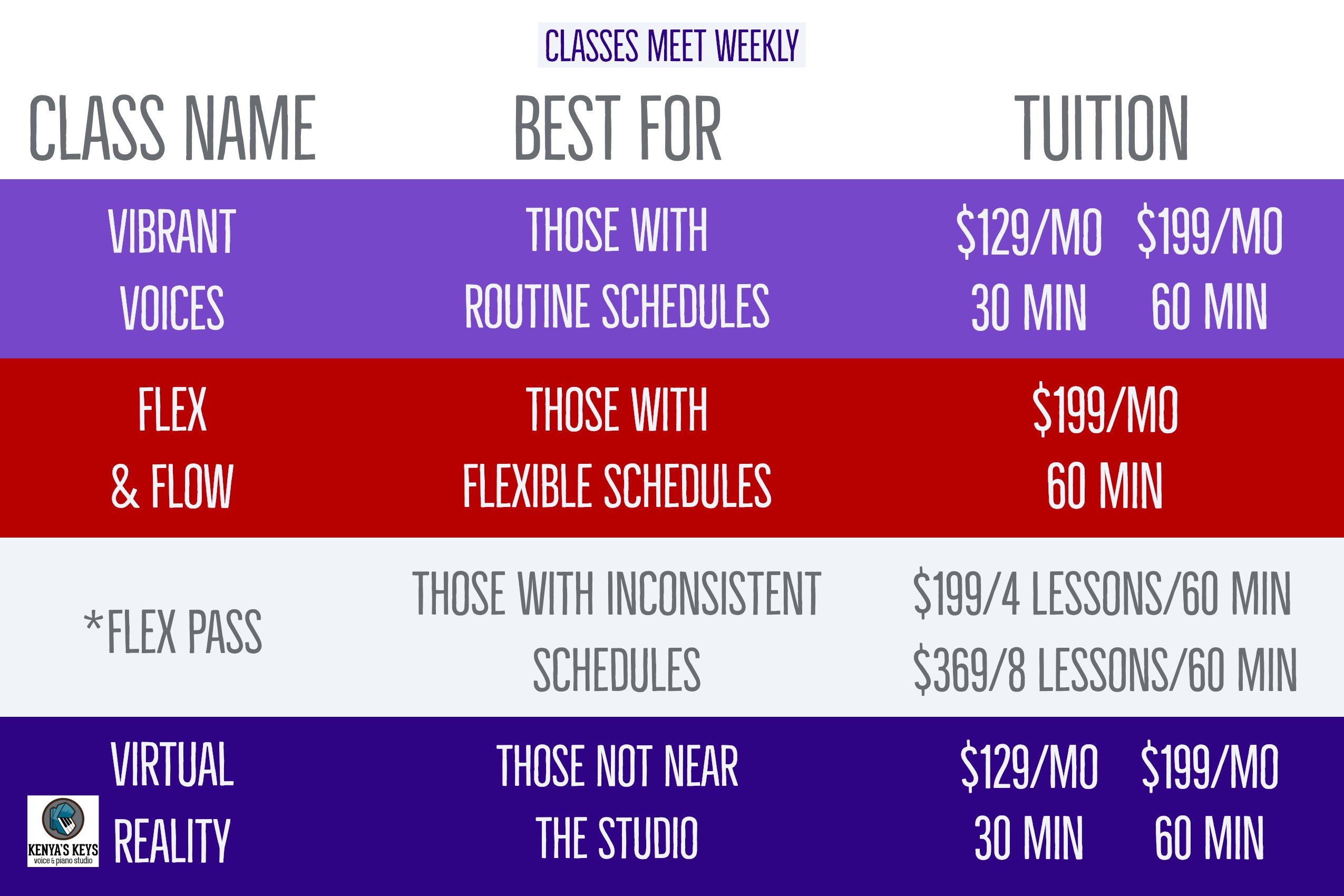 Private Lessons are best for more serious learners.  Online Lessons are best for remote learners.