Superstar Performance Order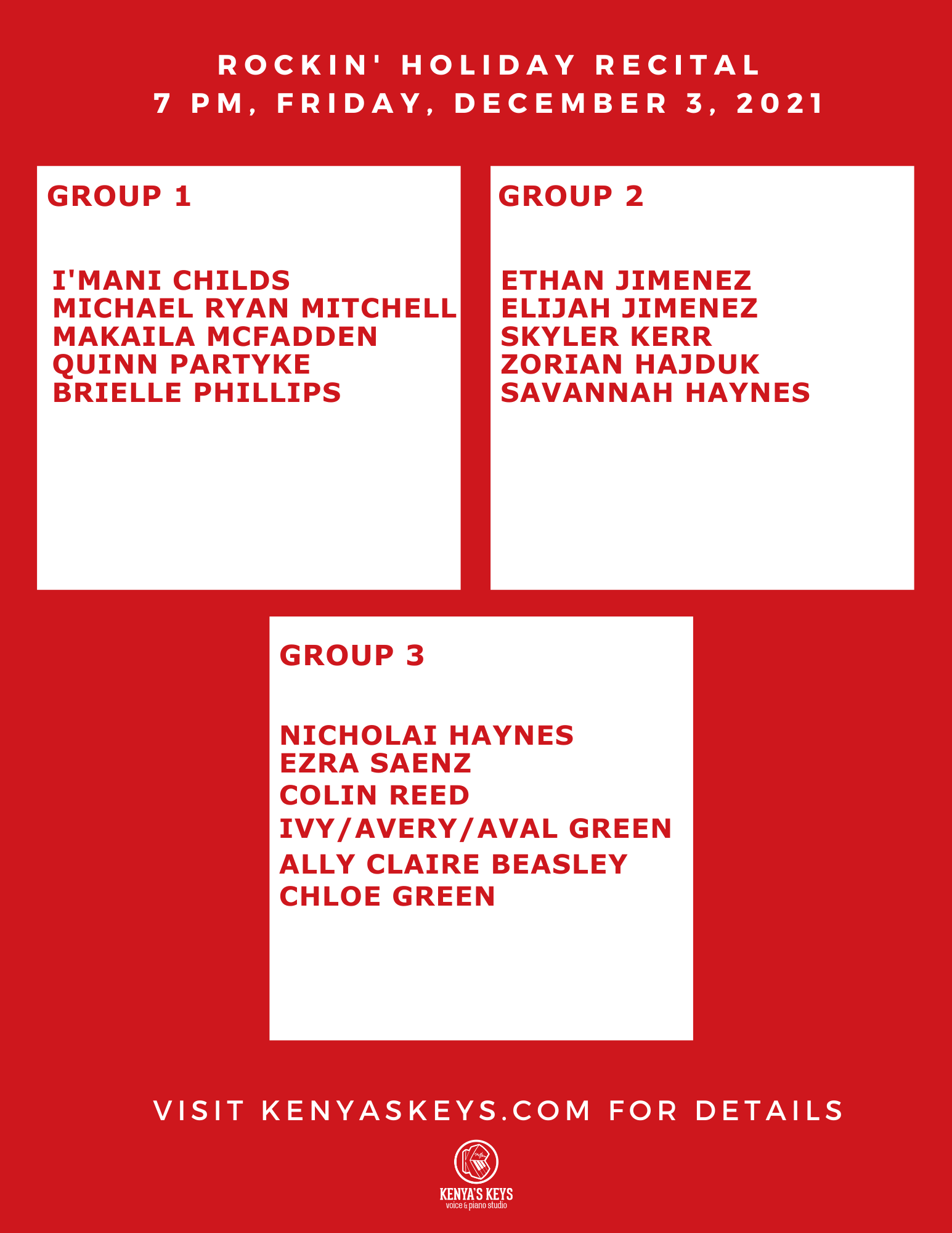 Rockin' Holiday Virtual Recital
Friday, December 3 at 7 PM is our next virtual performance opportunity.
Be ready for a rockin' good time as the piano and vocal Superstars of Kenya's Keys shine the light on their favorite tunes.
All Superstars are invited to prerecord their performance or perform live. As always, performing is NEVER mandatory, but is greatly encouraged to enhance the music lesson experience.
Share this webpage as an invite to your loved ones so that they can watch your stellar performance by clicking one of the links below.
The "Perform Live Here" button is for Superstars who choose to perform live on the day of the Rockin' Holiday Virtual Recital.
How to Perform
Participating Superstars can pre-record their performance or perform live. Every Superstar will be provided the following:
A Performance Order Line Up to let you know who's doing what when (will be at the top of this page the day of the recital)
A Performance Link for live performers (see button above)
A link to share with family and friends to view the recital on Youtube (see button above)
A link to share with family and friends to view the recital on Facebook (see button above)
If you choose to prerecord your performance:
Videos must be received no later than Wednesday, Dec 1, 2021

Compress large files

Email your video to Kenya@KenyasKeys.com
If you need help, simply ask.
If you choose to perform live:
Use the Performance Order Line Up to find out who performs before your turn.

Join the Performance Link when there are 2 performers ahead of your turn.

Shine the light on your talents with your performance.

Leave the platform after you perform.

Support your fellow Superstars by watching the remaining performers.
Holiday Closures
We make music all year long at Kenya's Keys, but occasionally, we do take breaks so that we can rejuvenate those creative juices and continue to provide you our very best musical selves. As a reminder, tuition already includes breaks. You can read the full policy here for more details.
Please note the following upcoming closure:
Winter Break is December 20, 2021-December 31, 2022
Superstar Shout Outs
Welcome to Matt, our newest Superstar Singer, and Eli, our newest Superstar Pianist, to join our ranks!
Congratulations to YOU- the supporters of our Superstars! You've been making sure your Superstar shows up for lessons prepared to get their shine on. I do not take it for granted that you permit me to virtually enter the intimate space of your homes. Thank you for providing opportunities for these Superstars to shine brightly.
Final Notes
We believe that music lessons should be accessible for all children and for several years we have partnered with The MusicLink Foundation in order to make that happen.
Families must prove a financial hardship in order to qualify for this program.