Ready for Music?
Music lessons are for EVERYBODY!  If you're ready for your music adventures to begin or continue, go ahead and register for an Introductory Lesson.  We'll give you the S.T.A.R. Treatment and help point you in the right direction as we encourage you to aspire for higher.
Time to choose a piano!  But where do you begin?  You've already researched how to choose a music teacher, right?  Right!  To get the most out of piano lessons, bottom line is, you're simply gonna have to do some practicing at home. That's really where most of the "work" takes place- by practicing (purposefully, of course).  To do this, you're gonna need something on which to practice, right?  Right! With so many different types of pianos and keyboards available, it's all too easy to let this begin to confuse you.
Bottom line up front- whatever you choose, it is in your best interest to choose a piano or keyboard that has 88 keys.  This affords you the opportunity to make use of the complete range of an acoustic piano.  You'll literally have the lowest and highest notes right at your fingertips.  As you develop your musicianship, you'll better appreciate being able to use of the complete aural spectrum of the piano.  If an 88-key instrument isn't within your grasp at this point, look for a 76-key, then 61-key instrument.  Remember, you'll get there!  We're all on this journey together.
Here, you'll find a breakdown of the different terms manufacturers use most often, what minimums to look out for, and direct links for purchase.  That's right, you can conveniently have each one of these delivered to your home with the simple click of a button. Let's begin!  *Affiliate links are used on this page.*
Already Own an Acoustic Piano?
If you already own an acoustic piano, have one that's been gently loved on and need it moved, or are looking to find the perfect piano technician to tune your piano, look no further than using the excellent and detailed services provided by Wayne's Piano Service.  He is our go-to guy at Kenya's Keys and will do everything in his power to provide you with a beautiful sounding piano that's also very aesthetically pleasing.
Touch Sensitive Keyboard
(AKA Touch response or velocity sensitive)
As you're looking for a piano to choose, keep this baseline in mind. This is your bare minimum gateway keyboard.  Anything less than this is simply a toy. We recommend a minimum of 76-keys, but hey, we all have to start somewhere.  The words "touch sensitive" mean that you can get loud sounds and soft sounds from the keyboard by pressing the key faster or slower.  Although a touch sensitive keyboard isn't the most ideal, it DOES respond to touch to some degree, BUT there is no "weight" behind the keys.  That means that the keys can't be used to effectively practice the kinds of techniques that are true to performing on a real piano. It just doesn't FEEL the same in the fingers, wrists, and arms.
Casio WK6600 Workstation Keyboard with 76 Touch Sensitive Keys USB w/ Keyboard Stand and Power Supply
Price: $319.99 & FREE Shipping.
Semi-weighted Keyboard
(AKA Hammer action or stage piano)
If you're gonna choose something that feels more like the real thing, then hooray for weighted keys here! That means that not only will this keyboard respond to touch for louder and softer sounds, but the keys actually feel more like real piano keys too.  Ain't nothin' like the real thing, baby!  This instrument will make a great practice instrument for a while, but keep in mind you may need to upgrade in about 1-2 years, especially if you're in this music thing for life!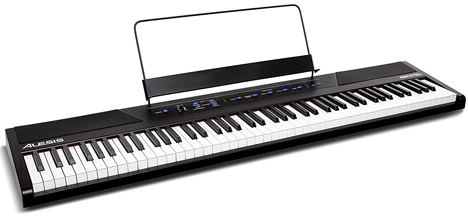 Alesis Recital 88-Key Beginner Digital Piano with Full-Size Semi-Weighted Keys and Included Power Supply
Price: $209.99 & FREE Shipping.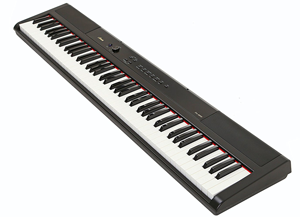 Artesia PA-88W Digital Piano (Black) 88-Key With 12 Dynamic Voices and Semi-weighted Action + Power Supply + Sustain Pedal + Carrying Case
Price: $279.99 & FREE Shipping.
Digital Piano
(Looks like a piano, but still plugs into an outlet)
If you choose a digital piano, you're gonna get something that refers to a semi-weighted or fully weighted keyboard with more of a "piano-like" stand.  The stand will certainly be more sturdy than the toothpick-like "x" stand you most often see in stores that are selling keyboards.  The pedal unit (those foot thingies you see pianists use at the bottom of the instrument) is also normally integrated into the digital piano component.  If you're unable to get an acoustic piano right now, a high-end digital piano is the next best thing to invest in.  You'll find digital pianos to be quite hardy and durable.  (We mostly use digital pianos in our studio.)
Korg B1SP 88 Weighted Key Digital Piano w/ Stand Three Pedal Board and Knox Bench
Price: $599.99 & FREE Shipping.
Yamaha P-115 Digital Piano Bundle with Yamaha L85 Stand, LP-5A Pedal, Furniture-Style Bench, Instructional Book, Austin Bazaar Instructional DVD, and Polishing Cloth – Black
Price: $799.99 & FREE Shipping.
Acoustic Piano
(No plugs, but still has strings! Get it?)
Of course, this is the BEST option to choose!  An upright or grand piano is the best investment for your music education pursuits.  If you're looking to buy a second-hand instrument, we recommend having a piano tuner or piano technician check it over before you make a purchase.  To keep your fine-tuned instrument running like, well, a fine-tuned instrument, you're gonna need to have the piano tuned (the strings will be tightened or loosened to meet an agreed upon music standard).  Here in Texas, pianos should be tuned twice yearly, and at minimum once a year.  Ideally, you'd have your piano tuned once in the fall and again in the spring.  The extremes of heat and cold where you live helps determine tuning frequency.  Again, we can't say enough about the fine services we receive from Wayne's Piano Service.  Give him a call and schedule your tune-up, move, or buy a quality piano from him.